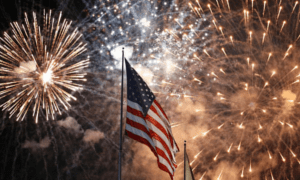 Fireworks are not toys
Never give fireworks to young children
Never experiment or attempt to make your own fireworks
Teach children that fireworks are explosive devices
If fireworks are found, encourage children to give them to an adult
When attending a public fireworks display stay back at least 500 feet
Always leave fireworks to trained professionals. That includes Sparklers, which can get hot up to 1200 degrees
Always keep matches and lighters out of children's reach, preferably in a locked cabinet
If you use lighters, buy ones with a child resistant feature
Never leave young children alone with an open flame
Teach children about good fire and bad fire
Remember to Stop, Drop and Roll if your clothes catch on fire
Fireworks are not legal in the cities of Camarillo, Moorpark, Ojai, Port Hueneme, Simi Valley, Thousand Oaks, and in the unincorporated areas of Ventura County. We strongly discourage the use of all fireworks including the Safe and Sane type. The use or possession could result in a fine and or jail term.
To reduce the risk of injuries and fires, the Ventura County Fire Department encourages the public to attend authorized firework displays during Independence Day (4th of July) put on by trained professionals.